High Park Cherry Blossoms 2017
This page is dedicated to cherry blossoms at High Park in 2017. Predict when trees will be in full bloom, post your observations and questions and answer questions others have about the Sakura trees this year.
You can also read general information about Cherry Trees in High Park including map, parking, etc.
Add your comments and questions here »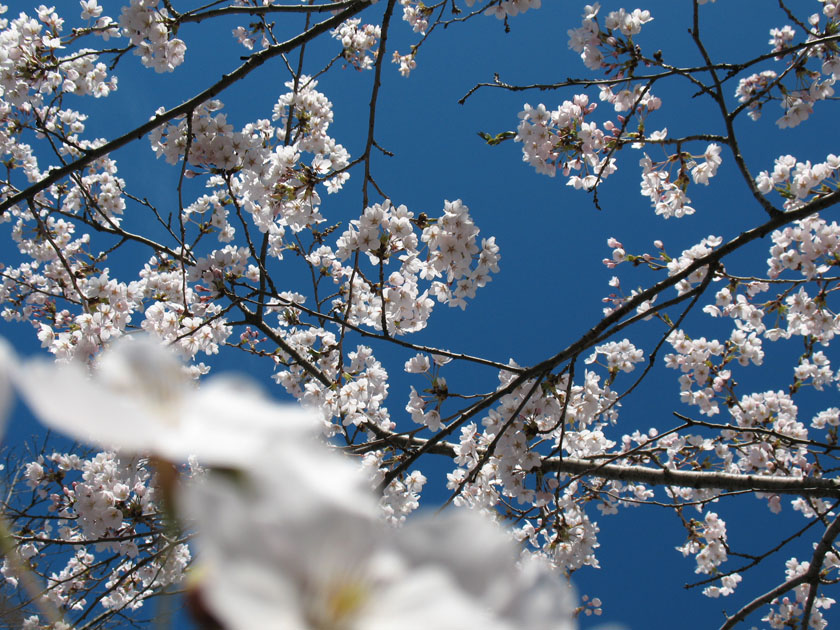 How I predict (Answer), April 28, 2017 , posted by Nobby , nobbycosmic@yahoo.co.jp
Still Good?, April 28, 2017 , posted by Vince , vincekhho@yahoo.com
Anybody by the trees after yesterday's rain? Wondering if yesterdays storm ruined the view.
Bloom date, April 27, 2017 , posted by Emily
Will there be blooms early may? I wanted to see them on Monday or Tuesday
Location, April 24, 2017 , posted by Cathy Bonello , cathyoctober12@gmail.com
Where exactly are the cherry trees located? I will be coming into the Park at Bloor and High Park. Thanks.
Peak yet ? , April 23, 2017 , posted by Sally , shir.hung@gmail.com
Is it at the peak yet for Monday? So excited thank you !
Have they bloomed yet??, April 23, 2017 , posted by Domenica , dasorofino@gmail.com
Is today a good day to go? Have they bloomed?
Exact Location of Sakura Trees, April 22, 2017 , posted by Abhilash Anil , 2020.abhilash@gmail.com
At which exact location within the park are the Sakura trees more dense?
April 21 4:00 pm - no real blooming yet , April 21, 2017 , posted by Donna , macdonaldd@aol.com
Visited today and just a few buds open. Seems to me like Monday - Wednesday will be peak days.
Rain, April 21, 2017 , posted by Wen , wendy.kw.fung@gmail.com
Does anyone know if the heavy rain and wind yesterday affected the bloom? Thanks!
Now!, April 20, 2017 , posted by Admin
Go now! The Sakura trees have started to bloom and now and throughout the the weekend of Apr 22 is when you should visit. Don't wait until past this weekend!
transportation, April 20, 2017 , posted by Gwen Stanton , stanton_gwen@yahoo.ca
I have limited mobility and use a walker to get around.
Is there any transportation available that would
accommodate me to get into the park, even a TTC bus
service as I can arrange for help to get on and off
the bus, if there is anything like this.
Thank you for your time and attention.
When to come?!, April 19, 2017 , posted by Natalia , natalia_tomlinson@hotmail.com
Ive never gotten to see these bloom and this year it is on my bucket list. I am not familiar with how to plan or time this and was wondering what dates would be the rough estimate for the beautiful blooms?
When it is blooming this year, April 19, 2017 , posted by An eager Visitor
When it is blooming this year (2017) - An update from an expert will be appreciated
sakura blooming, April 19, 2017 , posted by ram bhadran , bhadrans2002@yahoo.com
let me know when to visit the park
Sakura cheery blossoms, April 17, 2017 , posted by henry
I was at High Park on Good Friday and I saw some buds have developed to stage 4. If this trend continues, I predict that some of the Sakura cherry trees will be blooming on this weekend of April 22 or the weekend after that for sure...stay tuned for more update.
All flowers!, April 17, 2017 , posted by Catherine , caron.catherine@hotmail.com
It's happening: the cherry blossom in my garden is in full bloom! High Park trees should be in bloom these coming days!
It must be soon, April 16, 2017
This weekend and the past weekend were so warm, all the trees are flowering and new buds are growing, the sakura must start blooming soon in High Park. It can't be more than a week away?
Cherry blossom blooming, April 11, 2017 , posted by henry
My best guess the cherry trees will start blooming on the weekend of April 28-30 if the weather and temperature keep holding at around 12-18 from now to that day. Fingers crossed.
Too much rain, April 10, 2017
There has been too much rain lately; I have a bad feeling about this. Is there such thing as too much rain for a tree? Other than this, the buds are looking so much more swollen than last time I went to visit (which was April 2)!
Not just first day, April 5, 2017
To answer the question from the previous poster: it's not just a one day affair, usually the trees are in full bloom for two to four days. But the 29th may not be the best weekend. It's hard to tell now. Check back in a week.
Dumb question, April 5, 2017 , posted by Lance , lancebratsburg@gmail.com
Dumb question here. I have planned a trip for my wife and I to go April 29th weekend. If we miss the full bloom are we out of luck or is that just the first day worth enjoying it?
I think earlier, April 4, 2017 , posted by Zach
based on what i've heard this past weekend from people @ the park the cherry blossoms at high park this year will be in full bloom much sooner than the may 1 prediction posted on your website
Buds, April 2, 2017 , posted by Andy
I've seen lilac bushes start to get their buds... usually cherry blossoms about 2 weeks behind....
RE: no blooming at all?, March 23, 2017 , posted by Nobby , nobbycosmic@yahoo.co.jp
For the cherry flowers to bloom, a smooth rise of the daily temperatures is important. Last year, the middle of March was unusually warm with double digit maximum temperatures reaching 20C on one day. The buds must have started to work at a full speed. Then came the single digit freezing temperatures that continued to the middle of April. The buds must have been stunned and confused. I saw only a few flowers around May 9 shrouded in green leaves. This year, a similar pattern happened but fortunately in February to the beginning of March. The buds were not yet developed enough to be affected by that, I think. This year, so far, my prediction curve is rising rather nicely to blooming around the weekend of April 22/23 with full bloom around the weekend of May 1/2. Note: I am not an expert on the blooming nor the cherry blossoms. I am calculating the figures with very basic pieces of information. I do not take any responsibilities if the prediction was off. If you like to see more details, see my postings in http://torontonikkeiforum.2forum.biz/f1-toronto-nikkei-forum.
Buds yet?, March 19, 2017 , posted by Kat , katkas553@gmail.com
Has anyone seen if the tress are budding?? Hopefully the warmer temps forecasted this week will help...
RE: no blooming at all?, March 16, 2017
they didn't bloom last year because of rain and other bad conditions
No blooming at all?, March 8, 2017 , posted by Mr. Ackerly
I read that last year there were no blooming at all? How is that possible? Other websites say the same thing too? What happened? Anyone?
Not late April , March 8, 2017
The website says late April to early May but I would wager it'll be closer to early April this year. Some trees are budding in my yard already. Not sakura trees but it's still early for any tree to be budding.
Warm winter, March 8, 2017
Will the trees be blooming early this year because of the mild winter?
re: August, August 9, 2016 , posted by Admin
That is correct. Definitely no blooming this time of the year. This is a new page for the 2017 blooming season which will begin sometime in March/April.
August bloom?, August 9, 2016
No they aren't! I was confused by this page too but it's up all year so just because it's August it doesn't mean trees are all of a sudden in bloom haha
August, August 9, 2016 , posted by Jeb
Are there cherry trees in bloom in August?
re: last year, May 2, 2016 , posted by Jay J.
I think you're talking about another year. Maybe you thought you were on a different page - this is for 2017 even though your post shows up with the wrong date. I heard last year most flowers turned into leaves. I don't know how that happens, must be some explanation for it how a flower bud can turn into a leaf? Is that how all leaves grow on every tree? They start off as buds and some become flowers some don't? How does this work?
What happened last year?, May 2, 2016
I heard last year there was no blooming? Is that true?